Experience Your Own Dance Club On Wheels!
Dulles Limo Service's DC party buses and limos are known for providing astonishingly good times. Not only do the people in the party bus have to be on the VIP list, but as you rent a chauffeured party bus, you get the amenities of having a designated driver, your very own dance floor, a bar and much more…
All of our DC party buses and limousines are very well maintained and go through regular safety inspections. Our DC party buses are spotless, spacious and comfortable. Our reliable chauffeurs are well-groomed, responsible, courteous and always on time. Be assured that our drivers are attentive to the road and your safety.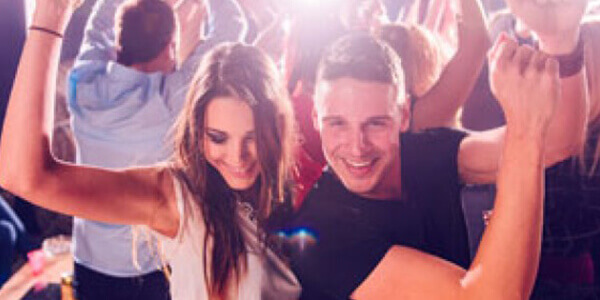 Affordable Party Bus Rentals Washington DC
If you just planned a birthday party or bachelorette party at the last minute, don't fret it. Dulles Limo Service always has chauffeurs and vehicles awaiting you on short notice. We are open 24/7 and offer no-wait transportation for all occasions.
Just hopping off the plane at Dulles? We provide excellent Dulles airport car service! In fact we can pull right out front and pick up guests from Dulles or BWI.
Within our premium party buses DC you will find a pro-sound system that amp up the bass. Who needs to go to the dance the club, when you can dance the night away on our hardwood dance floor. Our party buses also have inputs for your mp3 player and IPod, so you can get down to all your favorite songs. Our high-end party buses make it complete with laser light shows, a dance/disco ball and a flat screen TV.
Live it up and hire a professional chauffeur to safety drive you through the city, to a venue or wherever your destination may be. Dulles Limo Service provides reliable
Cheap Party Bus Rental DC
Our Cheap Party Bus Rental DC for: Bachelor & bachelorette parties, girls' night out, birthdays, going-away parties, college graduations and more…
Create a personalized Cheap Party Bus Rental DC celebration, listen to your music and set your rules…Or no rules at all! You can at least count on one thing being completely consistent throughout the night—a dependable vehicle, reliable driver and a fun time!
We offer right away detailed billing for our convenience, large group transportation and no hassle extra stops.
Have a look at our easy online reservation system or dial our 24 hour call center and speak with a friendly representative. No matter the occasion, party buses and limos, DC Party Bus Rental or Party Bus Rentals Washington DC–we're here for you!
Providing Excellent & Professional Services
Thank you all so much for helping our church trip go as planned. Last year didn't go as well as we we're hoping. So i am really glad that my friend recommended your company. The charter  bus was very nice. everyone was comfortable and had a really nice time. The driver was also very helpful to us and I really appreciated that. It was also very nice to see that your company had handicap vehicles, this made things much easier on us. Thanks again for such a nice trip. We only get to do this on…
Our anniversary went just as planned thanks to you! The driver was so polite, I really appreciated that he took us on that extra stop even though we hadn't planned on it. It was a lot of fun and it was very worth it. We look forward to renting a limo sometime in the future, maybe we could get one for our parents anniversary. I know they'd love it. Thanks again!
I wanted to thanks you guys again for making this so easy! I was worried about everything turning out alright, but you guys made me feel better about it and they had such a great time. I will definitely use your company again when my littlest girl turns 16!